---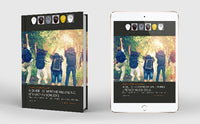 The Positive Psychology Institute and Knox Grammar School are proud to announce the 2nd edition of their foundational book on Positive Education. More than 300 pages of research, models, resources, evidence-based activities and stories from the front lines of education bring the theory and practice of Positive Education to life. Featuring new contributions from international experts in the field, this practical and accessible book is for educators, leaders, parents, policy makers, community groups, schools and universities. Within its pages, summaries of international research findings are accompanied by powerful ideas and practical exercises to help you introduce Positive Education in your educational setting, home or workplace. Practising Positive Education: A Guide to Improve Wellbeing Literacy in Schools is the first in a series of hard and soft copy manuals, workbooks and texts spanning all aspects of Positive Education.
This package includes one copy of the print version and one digital EPUB which can be read by most e-readers.  It is not a Kindle book.  Please note that the digital edition cannot be printed or transmitted to another party.
Please contact us at info@positivepsychologyinstitute.com.au for international shipping or bulk orders.